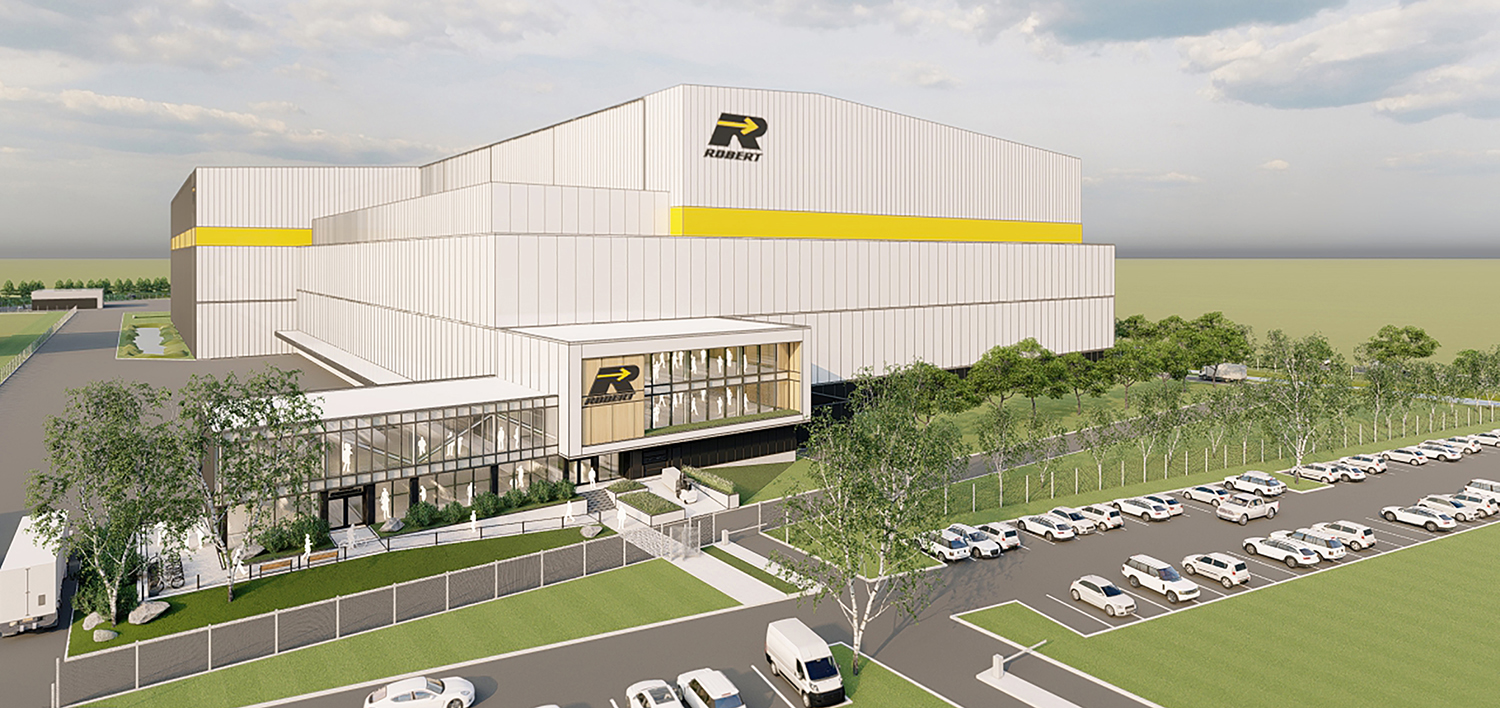 VARENNES (Quebec), March 15, 2021 – Marking 75 years in operation, Groupe Robert today proudly announced plans to build a state-of-the-art automated distribution centre in Varennes, with a financial contribution from the Fonds de solidarité FTQ, a Groupe Robert partner since 1993, and from the Government of Quebec. The total investment of $150 million, includes $40 million provided by the Fonds de solidarité FTQ and a financial support of $15 million from the Government of Quebec in the form of a loan, the new facility will be built in compliance with sustainable development standards.
Meeting growing demand
Located near Highway 30, the large vertical capacity distribution centre will boast a height of 150 feet with storage capacity for 60,000 pallets: 30,000 for fresh products and 30,000 for frozen products.
This new facility will be an addition to Groupe Robert's Boucherville agri-food complexes and is designed to meet the food industry's ever-growing demand for refrigerated and frozen goods. The initiative is aligned with the Quebec Government's strategy to promote food autonomy and buying local.
With this project, Groupe Robert will become the first 3PL (third-party logistics) service provider in Quebec with an automated warehouse for fresh and frozen foods that will be among the most highly automated in all of North America.
State-of-the-art technology building
In order to optimize the flow of merchandise as well as the use of drivers' time, a high‑velocity automated system will ensure that trailers are unloaded in only a few short minutes.
A high-performance carbon dioxide (CO2) system will provide the building's refrigeration needs. In addition to being a highly efficient refrigerant, CO2 is extremely safe when compared with ammonia or freon. In addition, an oxygen-reducing system installed in the automated warehouse area will considerably reduce fire hazards.
Green project
The project is inspired by both local and international best practices and builds on the 75 years of experience of the Robert family, as well as its highly knowledgeable team's involvement in logistics.
Relying on the latest technologies, the centre will be equipped with a heat recovery system allowing it to reuse heat generated by the refrigeration equipment to provide heating required to ensure the building's operations as well as to heat the exterior concrete slabs on the loading docks. The excess heat can also be used to heat adjacent properties or the equivalent of 100 single-family homes.
Solar panels and a rainwater collection system to be used for washing trailers will complete energy-efficient features of the company's flagship building.
Construction of the project has been awarded to general contractor Construction Sorel. Groupe Robert has also engaged the services of architect Jean Carol Fournier and engineering firm Tetra Tech, to accompany the company until completion of the project. The centre is scheduled to be operational in early 2023.
STATEMENTS:
"Groupe Robert is proud to expand its services within the Quebec agri-food market and increase its efficiency thanks to this new ultra-efficient distribution centre designed with the latest and most sustainable technologies. Since 1946, we have worked continuously to offer more to our customers, while continuing to be a family business they trust. We wish to thank our financial partners as well as Mayor Damphousse and the Marguerite-d'Youville regional county municipality for the warm welcome. We look forward to launching operations at this new complex."
– Michel Robert, President and Chief Executive Officer, Groupe Robert
"The COVID-19 pandemic made us realize the importance of consolidating local supply chains in order to ensure the delivery of products throughout Quebec. By automating its new distribution and warehousing centre, Groupe Robert consolidates its leadership position in the logistics sector."
– Lucie Lecours, Minister for the Economy
"By focusing on modernization and digital technology to better meet the needs of its customers, Groupe Robert is making smart choices to ensure its growth. I am delighted to see the company move to Varennes, a city known for its dynamic economy and build its state-of-the-art distribution centre here. I am convinced that this avant-garde project will have a positive impact for the entire Montérégie Region. "
– Suzanne Dansereau, Member of the National Assembly for Verchères
"Challenges related to COVID-19 pandemic have reminded us of the importance of having a strong distribution network for Quebec's agri-food producers and processors. Thanks to its extensive experience in transport and logistics, Groupe Robert is able to carry out this important project for a key sector of Quebec's economy. Congratulations to Michel Robert and the entire Groupe Robert team who, through this project, are tackling key issues surrounding energy and technology transition!"
– Janie Béïque, Executive Vice President, Investments, Fonds de solidarité FTQ
"The City of Varennes is very happy to welcome Groupe Robert, its partners and the construction of this state-of-the-art distribution centre embracing best environmental standards. Our community has all the assets to welcome this flagship of Quebec entrepreneurship and is always eager to extend its support to companies wishing to establish themselves close to Greater Montreal region as well as the port facilities of the city of Contrecoeur."
– Martin Damphousse, Mayor of Varennes
About Groupe Robert
Founded in 1946, Groupe Robert has since become a leading North American supply chain partner. We owe our success to our 3,500 dedicated employees and our expertise in delivering integrated logistics, distribution, warehousing and transportation services. Groupe Robert owns and operates more than 40 distribution centres, which together represent 3.5 million square feet of warehousing space.
About the Fonds de solidarité FTQ
The Fonds de solidarité FTQ is investing in a better society thanks to its over 700,000 shareholder-savers. Through its private equity and venture capital investments, the Fonds seeks to have a positive impact on society, namely in the health, environmental and innovation sectors. With net assets of $15.6 billion as at November 30, 2020, the Fonds supported over 3,300 partner companies and more than 220,000 jobs. To find out more, visit fondsftq.com
For additional information, email us at: This email address is being protected from spambots. You need JavaScript enabled to view it.